Peter Anderson Biography
(1901 - 1984)
Peter Anderson was the master potter at Shearwater Pottery from its inception in 1928 until shortly before his death in 1984. Peter's family remembers him as the heart and soul of the pottery along with their mother, Pat. Peter Anderson is memorialized by the Peter Anderson Arts and Crafts Festival which is held on the first weekend of November each year in Ocean Springs, MS. The event attracted 350 vendors in 2009 and over 100,000 guests.
Peter was born to George Walter and Annette McConnell Anderson in New Orleans, LA in 1901, where George was an import/export merchant. Peter had two younger brothers, Walter Inglis and James McConnell (Mac). When Peter was 12 and Walter 10, their parents sent them to New York for three years to attend Manlius Military Academy for Boys. Upon their return to New Orleans they were enrolled in the Isadore Newman Vocational School where they studied various crafts including pottery and woodworking. To earn income during his young adult life, Peter sold furs of animals he trapped in the Louisiana marshes.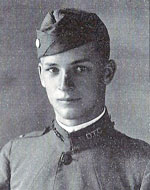 Peter In Uniform
As the boys matured, George began to realize they were not interested in continuing on in his import/export business, and Annette being of an artistic nature, continued to expose the family to art. George and Annette discussed purchasing a summer home on the nearby Mississippi Gulf Coast; they were familiar with the area because Annette's family owned a home in Bay St. Louis, Ms. After several trips in search of the "right" place, Annette fell in love with a 24 acre estate located in Ocean Springs, MS. George and Annette purchased this property which Annette named "Fairhaven" in 1918.
At first Fairhaven was to be a summer home and, according to Annette, an Art Colony; however, that changed in 1922 when George decided to retire, and together they moved the family to Fairhaven. At this point Peter was not settled on a career, so George hoping to help Peter find his path, gave him a generous amount of money to start his career. Peter was keenly interested in shipbuilding, and used the money to build a 24 foot sailboat he named the "Gypsy".
One day while out rowing to nearby Deer Island, a barrier island just off the coast of Ocean Springs, Peter met Joseph Meyer. Mr. Meyer was the Newcomb College Art Potter and mentor to the famed potter, George Ohr. Mr. Meyer was making pottery on Deer Island. It was a pivotal meeting for Peter who became very interested in the idea of making pottery. Peter asked Mr. Meyer to teach him about pottery, but Mr. Meyer instructed Peter to learn on his own.
Peter did begin to learn potting on his own as Mr. Meyer suggested. He began throwing and building a rectangular groundhog kiln on the Shearwater grounds. The kiln was small, measuring 3 feet wide by 9 feet deep. It was fired with pine knots at one end and had a flue at the other end. By 1925 Peter was firing the kiln at all hours of the day and night, but the outcome was unsatisfactory. The kiln worked poorly, and it began to dawn on Peter that making beautiful pottery was so difficult and technically challenging that he needed additional formal training.
Peter also needed a reliable source for clay. He had tried local beach clay, but found it was too sandy and did not fire well. Saturated with salt it did not look good with a clear glaze. Peter began ordering clay from Ohio where other successful potteries sourced their clay, and while this clay worked well, Peter longed for a local source. He and his brother Walter sailed Peter's boat, the "Gypsy", to Fish River in Alabama, where they obtained his first usable local clay. He continued his search for usable clay and was eventually successful when he found a good supply in George County, Mississippi. The family used this clay until 2005, and still uses this clay, but has also found sources of local clay in nearby Mobile County in Alabama.
Peter's mother Annette was a close friend of Mary Given Sheerer, an influential professor of pottery at Newcomb College. Mary Sheerer was a dominant force at Newcomb, since she had been on the faculty for thirty years as a potter and was the person who approved all of the pottery that was sold at Newcomb. Peter frequently asked Ms. Sheerer for technical advice, particularly concerning the "scientific" aspects of making pottery, the kiln and the glazes, but still his work could not satisfy his expectations, and he still sought formal training. George and Annette sent him to Wayne, Pennsylvania where he studied glazes as an apprentice under Edmund deForest Curtis. Curtis had been a previous director at Van Briggle Pottery and Enfield Pottery. Curtis's own studio was called Conestoga Pottery and was associated with the Philadelphia Museum of Art.
Upon Peter's return from Wayne, he was accepted for study at the prestigious School of Clay Working and Ceramics at Alfred, New York. When Peter returned home, his family, recognizing his passion and obvious talent, encouraged him to continue making pottery.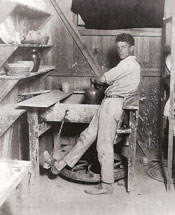 Peter At Wheel
Slowly and patiently Peter's continuing education and continuing association with more established artists advanced the whole family's abilities in the technical aspects of pottery making. This dawning success was a blend of the right kiln, the right glazes, the right shapes, and the right techniques for throwing and hand building pottery pieces. In 1928 Peter and his parents decided that Peter was ready to start selling his pottery. When the pottery needed a name, Peter came up with "Shearwater" from a book on North American birds, and so it has been Shearwater Pottery ever since then. Throughout 1928 Peter designed the work buildings and showroom Peter and Manny Beaugez built the buildings, and in the fall of 1928 Shearwater Pottery was opened for business.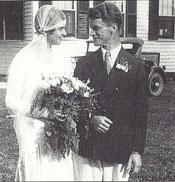 Peter And Pat's Wedding Photo
In April 1930 Peter married Patricia (Pat) Marjorie Grinstead, the sister of Agnes Grinstead, who three years later would marry Peter's brother Walter. Peter and Pat had four children, Michael, Patricia, Marjorie, and James (Jim), all of whom worked or continue to work at Shearwater Pottery. Peter and Pat's marriage lasted until 1973 when Pat died of cancer. Pat was Peter's greatest supporter and admirer from their first meeting in 1928 where she stole Peter's heart when they met on the Shearwater road.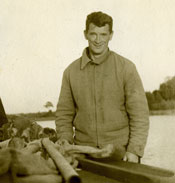 Peter And Boat
In addition to Peter's passion for pottery he also enjoyed the outdoors. He built boats, shrimped, fished, gardened, kept bees and spent many of evenings relaxing or fishing on his pier on the Mississippi Sound. He also went on drives in searching for firewood and wildflowers. The wildflowers were brought to the Showroom where they were displayed in his beautifully crafted pottery, and the firewood used to heat his home and the Showroom.
Peter Anderson died in 1984 of amyotrophic lateral sclerosis, better known as ALS or Lou Gehrig's disease. He stayed active until the final months of his life. He is still much loved and respected by all that knew him.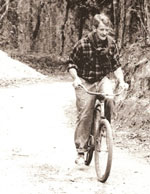 Peter On Bicycle Going Down The Road