Patricia Anderson Findeisen Biography
(1933 - )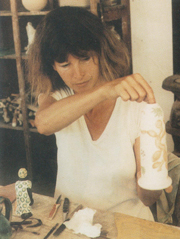 Patricia Anderson Findeisen
Patricia Anderson Findeisen is a decorator at Shearwater Pottery. Patricia married young and is the divorced mother of three grown sons.
Patricia decorates utilitarian and pure art pottery pieces. She decorates the cast pieces designed by her father Peter and those thrown by Jimmy or Peter Wade.
Patricia has also decorated some Walter Anderson pieces, especially the sitting and reclining cat and the chesty horse. His shapes seem to stimulate her. Most of her decorated pieces have several concurrent and often contrasting themes on the same pot. One side may have gaily painted parrots and flowers and a darker scene on the other.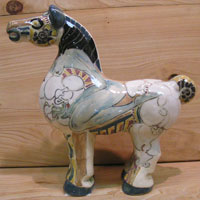 Decorated Chesty Horse Light Side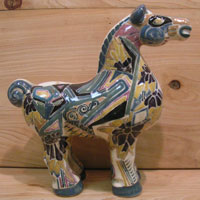 Decorated Chesty Horse Dark Side
She is sometimes open and frank about her ideas and images, sometimes enigmatic. Patricia writes poetry and at times will include a little poem or story line to explain as design. Patricia is a self-confessed "news junkie" and is deeply and emotionally influenced by current events and the happenings of the day. Her pottery is often decorated symbolically and depicts her inner conflict with current events.