Christopher Inglis Stebly Biography
(1967 - )
From The Book "Shearwater Pottery" By Dod Stewart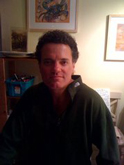 Christopher Inglis Stebly
Chris Stebly was born December 6, 1967, youngest of the five children of Mary Anderson and Marion John Stebly. He grew up on the water and in the woods, hunting or fishing with his brothers, visiting the islands, swimming and surfing. As a child he drew elaborate underground homes for rabbits, Horn Island landscapes, and seascapes complete with all the birds and creatures that live there. As a teenager he worked for his cousin Jim Anderson at the Shearwater workshop and at his Uncle Bill's sporting goods store, Bayou Marine. After high school, he worked for his brother Mark who has a guide fishing business at the Chandeleur Islands.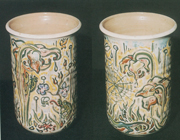 Thrown Vase by Jim Anderson 1999, Decorated with Pitcher Plants and Spider Webs by Chris Stebly
If Walter Anderson went to the island from Shearwater, his grandson came to Shearwater from the island. Left alone on Chandeleur to care for Mark's houseboat for more than a month, Chris used crayons to decorate paper plates with birds, crabs, and fish. Back on the mainland he showed them to Jim Anderson, who suggested he put the designs on Shearwater plates. His great uncle Mac gave him tools and taught him decorative techniques of incision, carving, and various methods of applying decorations to greenware. From the very beginning, his work was viewed as being very special.
Encouraged by the enthusiastic reception of his offerings in the showroom, his own pleasure in the process, and the offer of a scholarship by the New Orleans Academy of Fine Arts, Chris studied there in 1990 and 1991. He strengthened his gifts for drawing, painting and sculpting as well as decorating.
At Shearwater he modeled figurines of animals, fish, and imaginary characters and made molds for their reproduction. In underglaze paint, the happy rhythms of his people, plants, sea creatures, and birds grace his cousin Jim's thrown ware.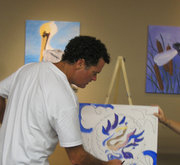 Chris At Work
Chris has artistic genes from his gifted father as well as his famous grandfather. His two brothers attribute much of his success to what they call "the luck of the Inglis". Not only has he been able to earn a living with his artwork, he can also wind surf, catch fish and dance. Chris's work can be seen at Shearwater.