James McConnell "Mac" Anderson Biography
(1907 - 1998)
From The Book "Shearwater Pottery" By Dod Stewart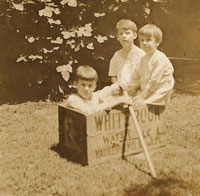 Mac, Peter and Walter
The third Anderson brother, James McConnell Anderson, known as Mac, was born in New Orleans, Louisiana, August 9, 1907, where he received his early education. In the English tradition of his father, Mac was then sent to military boarding school in Chattanooga, Tennessee. Mac later attended Tulane University Architectural School from 1926 to 1928. While at Tulane, (Newcomb College is part of Tulane University), Mac lived with his aunt Adele Anderson. Mac studied drawing under William Spratling, who later went to Mexico to teach handcrafts and design to Mexican artisans. From 1942 to 1945, Mac also studied under Juan Jose Calandria, the Uruguayan Consul to New Orleans, who taught at the Arts and Crafts Club on Royal Street in the New Orleans French Quarter.
Mac had a lifelong interest in nature and outdoor activities, hunting with his father and with Peter and Bob. The Anderson men visited the neighboring Louisiana swamps and marshes to hunt ducks and snipe. All had a deep love for the forest and the local river basins. Mac's love of the outdoors and keen observations of the natural world are evident in the art he produced over his lifetime.
Mac and Walter began working at the Annex in 1930, where Mac was employed to make molds, do the firing of the kiln, and oversee production. Mac often created custom pieces for customers when Peter and Walter declined. Mac worked at the Annex intermittently for most of his life. He created two charming sets of baseball figurines, the first set being no longer produced. He also produced many other small pieces and a variety of cast designs, including the popular woodpecker mug. Walter sometimes designed pieces in series, and Mac often added some of his designs to Walter's series. Mac made the hunter, Rip Van Winkle, the dogwood ashtray, some of the black figurines, and many of the smaller figurines which were used to occupy spaces in the kiln that would otherwise be left empty. Mac designed the wooden forms that supported the molds and replaced the cumbersome linoleum forms that had been used to control the plaster.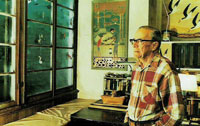 Mac At Home
Like his brother Walter, Mac was a man of many talents. He produced wood sculptures, woodcarvings, paintings, watercolors, oil paintings on Masonite, and woodcut designs for fabrics and paper. His style is unique, distinctive, and controlled, with intricate carved and reticulated floral to repetitive patterns exquisitely carved into the pieces. Many of Mac's pieces have carved fish motifs transforming magically into birds and waves. One of the most beautiful pieces is a soft, green fish vase carved by Mac in 1936, thrown and glazed by Peter. This vase toured Europe for three years with the Robineaux Exhibition, and the following year Mac carved, glazed, and fired three very rare copper red platters thrown by Peter, which also toured the United States with the Robineaux Exhibition.
Mac painted murals in and around Ocean Springs between 1934 and 1936, and he worked on several W.P.A. projects initiated by Ellsworth Woodward, who had known the Andersons during their Newcomb and Tulane days. The four sections of the "Fish and Bird" tile murals were installed in 1936 at the Ocean Springs Public School on Government Street, where Mac's brother Walter had painted his six oil murals. The tile murals remain in the old school building, now the Mary C. Cultural Center.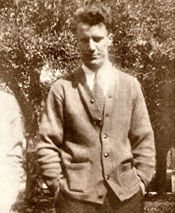 James McConnell Anderson
Mac worked for a short time in 1940 at Ingalls Shipbuilding in Pascagoula, Mississippi, as a straightener, and in 1942 was employed at Delta Shipyard in New Orleans as a straightener and pusher. Money was tight in the thirties and forties, and since it was difficult for Mac to make a living solely by working at Shearwater, he could not dedicate himself full-time to art. In 1952 Mac accepted a position at Ferson Optics, where he made precision hand corrected prisms for riflescopes and tanks. Only after his retirement from Ferson could Mac go back to work at Shearwater. The body of his work steadily grew all through his long, productive lifetime, despite his time limitations.
His artistic output was prolific and noteworthy. He often decorated pottery with whimsically painted everyday New Orleans street scenes, with children and blue-collar workers working on docks and riverfront wharves. Simultaneously he painted landscapes of the island pine trees silhouetted against Deer Island, which he could see from his living room where he painted. His uniquely stylized work captured the zest of ordinary people working and playing. Mac often depicted men and women, oyster fishermen, swimmers, boaters, and picnickers enjoying the seaside and beaches in Ocean Springs. He made the unremarkable seem remarkable with a few brush strokes. He painted the herons and owls, the shearwaters, and skimmers, the ducks and coots he saw swimming and flying by. His style reveals the essence of the flora, fauna and people of the Mississippi Gulf Coast.
Mac painted several murals in the 1950s and 1960s that are still in existence. "Pitcher Plants and Pine Trees", a painting commissioned by the Ocean Springs Woman's Club, hangs in the entrance to Ocean Springs Hospital on Highway 90 East. Another mural, "Singing River Scene", (1959) was commissioned by the American Legion and is located on the second floor of the Jackson County Courthouse in Pascagoula, Mississippi. Mac's latest mural was "Bayou Scene", executed by Elizabeth Veglia. This lovely mosaic is on the front of the Ocean Springs Civic Center near the Hospital on Highway 90 East. Through the years, several murals have been lost, including the murals at Trilby's Restaurant from 1955, and those at the Emmanuel Baptist Church and the Charlie Carr Fishing Camp.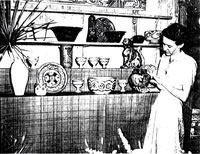 Sara At Showroom
On April 6, 1946, Mac married Sara Lemon (1910-2007) in Ocean Springs. On their honeymoon Sara and Mac went to Avery Island, Louisiana, famous for its beautiful bird sanctuary, massive salt domes, and McIlhenny Tabasco Sauce. Since starting at Shearwater in 1936, Sara worked in most areas of the pottery, particularly painting and trimming in the Annex and in the Shearwater Pottery Showroom. She was an authority and invaluable resource on the pottery. Sara and Mac had two daughters: Sara Margaret (Marti) and Adele (Dele) Elizabeth.
Mac Anderson's home was unique, of rammed-earth design, a rare form of architecture. Hand-built by Mac in 1937, the home cost about $1000.00 to complete. Mac had seen an article on this type of home building in an issue of Coronet Magazine and ordered the unedited manuscripts and a government bulletin on the subject. Unable to restrain his enthusiasm, he began work before receiving all the literature. He built the necessary wooden forms then hired three other workers: one to clean the mud, the second to carry the mud to the site in wheelbarrow, and the third to help put the mud into the forms gradually in 6 inch layers. He hired a Biloxi bricklayer to help him make the chimney and fireplace. The bulletin arrived just as Mac was finishing the house. He estimated that he would have saved a little time using the bulletin. Mac memorialized the building project by decorating a piece of pottery with the workers on it. Mac's little house was amazingly comfortable and had withstood several major hurricanes, including Hurricane Camille in 1969 which ravaged the Mississippi Gulf Coast. Sara Anderson lived in the lovely house overlooking the Gulf until 2005 when Hurricane Katrina devastated the Gulf Coast and forced Sara to move into daughter Marti's home in Ft. Worth, TX. The interior was replete with pieces of furniture that Mac made as well as carvings and paintings done by Mac and his brother Walter. Mac painted and decorated prolifically until his death in 1998.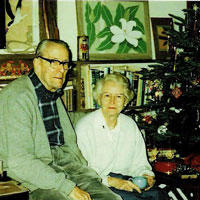 Mac And Sara Anderson At Christmas