Welcome To
Shearwater Pottery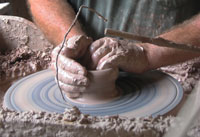 Jim Anderson Throwing A Pot
Shearwater Pottery was founded in 1928 by Peter Anderson with the support of his parents, George Walter Anderson and Annette McConnell Anderson. From the 1920s through the present day, Shearwater Pottery has produced art pottery, utilitarian ware, figurines, decorative tiles and other pottery pieces. Shearwater Pottery is high-grade hard fired earthenware intended for functional as well as decorative use. Each piece is individual and unique in nature.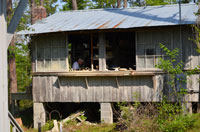 Jim Anderson At Workshop Window
Shearwater Pottery is crafted using two distinct clay bodies. A white bodied clay made mainly from "ball clay" obtained from Tennessee is used to create "underglaze" castware from molds created by various family members. The cast pieces are hand painted or originally decorated. A buff bodied clay made largely from clay obtained from local Mississippi and Alabama sources is used to create thrown, jiggered or cast pieces, and, unless decorated by one of Shearwater's decorators, it is glazed with one of Shearwater's unique glazes.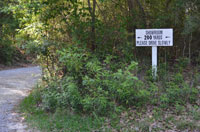 Showroom Sign At Workshop
Peter Anderson's four children, Peter Michael Anderson, Patricia Anderson Findeisen, Marjorie Anderson Ashley, and James Anderson, own Shearwater Pottery, and three of the children are still active in the ongoing production of Shearwater Pottery.
While this website represents examples of Shearwater Pottery's expansive selections, it can not be a substitute for an actual visit to the Shearwater Pottery Showroom which is the only retail outlet for Shearwater's pottery.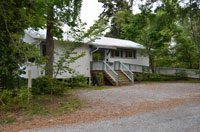 Shearwater Showroom
Shearwater Pottery, LTD
102 Shearwater Drive
P.O. Box 737
Ocean Springs, MS 39564
Take A Visual Tour Of Shearwater Pottery